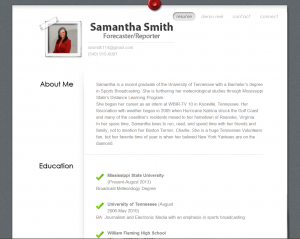 Services Provided:
Resume style site for local Journalist
Complete Website Redesign
Graphic Design for Logo and Branding
Domain Transfer and Hosting Assistance
UPDATE: Congratulations!!! Samantha can now be seen on 41 NBC as a weathercaster!!! Glad we could help.
Samantha is a recent graduate of the University of Tennessee with a Bachelor's degree in Sports Broadcasting. She is furthering her meteorological studies through Mississippi State's Distance Learning Program.
She began her career as an intern at WBIR-TV 10 in Knoxville, Tennessee. Her fascination with weather began in 2005 when Hurricane Katrina struck the Gulf Coast and many of the coastline's residents moved to her hometown of Roanoke, Virginia.
In her spare time, Samantha loves to run, read, and spend time with her friends and family, not to mention her Boston Terrier, Charlie. She is a huge Tennessee Volunteers fan, but her favorite time of year is when her beloved New York Yankees are on the diamond.